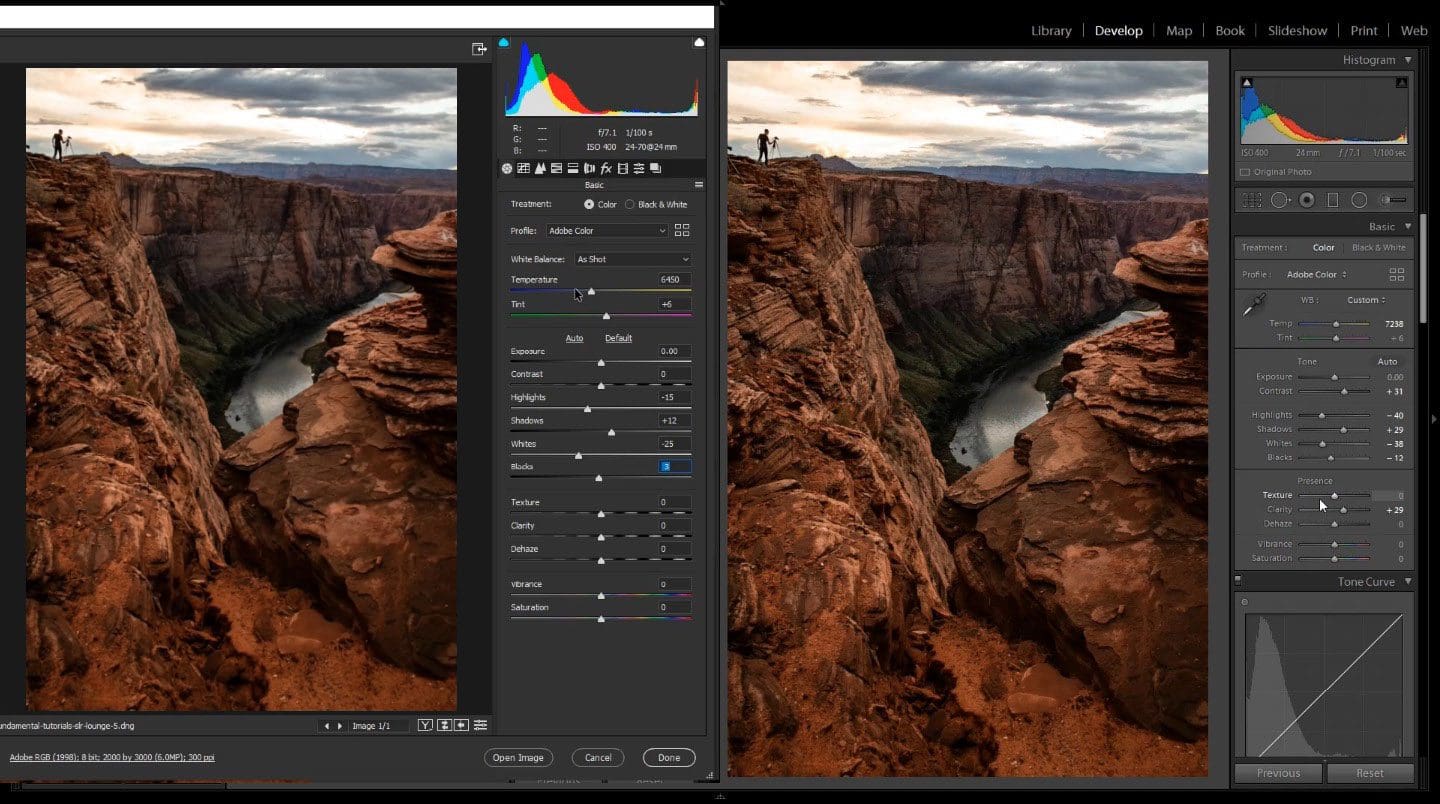 فلاتر فوتوشوب تجميعة ضخمة 2023
تجميعة ضخمة لاعدادات المسبقة الخاصة بالفوتوشوب وتعمل مع Adobe Camera Raw
مجموعة من إعدادات ACR المسبقة العشوائية أو لمرة واحدة والتي تم جمعها على مر السنين.
يمكن العثور على معظمها عن طريق نسخ اسم الملف ولصقه في Google.
تحتوي هذه الملفات على ملفات XMP فقط. قد يحتوي البعض على ملفات PDF أو دروس فيديو.
Miscellaneous Adobe Camera Raw Presets
A collection of random or one-off ACR presets collected over the years.
Most can be found by copying and pasting the file name into Google.
There are some which I could not find a publisher for, so they only have a pack name, but looked promising so I kept them.
I have not actually used any of these, so I can't speak to what they will do for your images, I suggest doing the work of reasearching them for yourself.
These contain XMP files only. Some MIGHT have PDFs or video tutorials.
If you're going to complain about the number of zip files, DO NOT WASTE YOUR TIME OR MINE PLEASE. WHAT YOU SAVE IN FINANCES, YOU PAY FOR WITH TIME.
المرفقات
A Color Story – Flashes of Delight by Taylor Sterling
Adobe Lightroom Default
AFFOB – Grit City
Anastasia Lesnova – Pack of 13
Andrei Barb – Master Collection
Andr' Josselin – Primavera Pack
Anita Suchocka – Portrait Full Pack
Anna Roussos – AR Pro Series
Aspen Dawn Photo – Pack 02

Aubree Belle – AB Bundle
Beboy – Landscape Packs 1+2
Bec Zacher – The Story Keeper
Becca Jean Photography – The Inner Light Collection
Benjamin Ortega – All In

Benn TK 2019
Benny Bulke – BNW Streetpack
Brandi Potter – Hex
Brimstone Creative – The Travel Collection
Briquelle Kayanne – Run Away With Me
Chelsea Kauai – Earthy + Cinematic Collection
Chez N£¤ez – Complete Bundle
Chris Henry – Forest & Foliage
Chris Turner Presets – CTM Pack

Christine Meintjes – All in One Bundle
CityTurtles – Warm + Moody II
ClickinMoms – Cinema Sampler
CVatik – Persephone
Dan Lior – Wildreness Cinematic Pack
Daniel Ernst – Preset Pack
Daniel Kordan – Night in Nature & City
Digital Film Actions – Ghosts
DigitalCreatives – Strawberry Portrait

Dirty Boots and Messy Hair – Dirtyboots
DxO – FilmPack 6 _ Elite Black & White Profile Edition
Eden Strader – Light & Airy + Moody
Elena Arestova – Set of 7

Emmett Sparling – The Master Collection
Envy Boudoir Photography – The Envy Collection Bundle
Evgeny Semeykin – Film Emulation
Felix Ranchor – Rhodes
Fern & Oak – Honey
Film Inspired Presets
Fire & Ice – Signature Pack
Flames & Roses – Emotions Pack
Gabi x Eras

Gabriele Vinci – The Master Collection
Gleb Ruby – Presets
Govinda Rumi – The Adventurer
Gumroad – New Presets by Zoelaz
Hakan Erenler – Photography Preset Pack
Hayden Pedersen – Universal Pack
Imagen – Tierra by Fer Juaristi
Inkstaboy – Inkstagraphy I
italida ColorShop – Preset Collection

Ivan Gorokhov – Top 25 of 2015
Ivan Proskurin – Vankou Pack 2017
Jacob Riglin – Aesthetic Collection
Jared Polin – FroPack
Jebe Gonzales Photography – Story Pack
Jessica Drossin – Looking Glass
فلاتر فوتوشوب تجميعة ضخمة

Joakim Karlsson – Black and White
Joe Thomas – Desktop Pack
Joe Yates – Iceland Collection
John Branch JBIV – Natural Feels Color Pack
Johnny Edlind – Explore Pack
JStudio – Vintage Film Bundle
Jungle Presets
فلاتر فوتوشوب تجميعة ضخمة

Katelyn James – KJ Process Pack
Katie Griff – Seasons Pack
Katja Simon – I Do
Kevin Mullins – The Complete Collection
Khumaix – 2020 Pack
Kiin – Editorial Pack
Kohki Presets – Signature Pack
Kopernikk – 4 Seasons v1.1
Kyle Vollaers – The Master Collection
Lady Byrne
فلاتر فوتوشوب تجميعة ضخمة

LensLab – Sean Archer Collection
Life of Riley – Color Pack
LifewithElliott – The Master Collection
LightPreset – Earth Pack Deluxe Edition
Lightroom Preset Shoppe – Dark Moody
list.txt
Lonely Speck – Film Speck One v1.4
Love Her Wild – Golden Days Pack
Lucas Pinhel – Essential
Luis Dalvan – Cine POP

Lukas Korynta – Signature
Marat Safin – Gala
Marcelo Correia – Premium Pack
Marie Fe and Jake Snow – The Ultimate Mobile Pack
Marisa.in.HD -12 Creative Professional Collection

فلاتر فوتوشوب تجميعة ضخمة
Maxwell Grover – Vibes Pack
Meadow & Ash – The Honey Collection
Megan Hein Photography – Kansas
Melissa Marshall – MMX Color Pack
فلاتر فوتوشوب تجميعة ضخمة

Mexiquer – Kenya & Zanzibar
Michael Kagerer – The Original Collection
Michelle Mckay – The Beautiful Newborn Collection
Mico – Story in Colors
Mitch Lally – The Nostalgia Pack
Monique Serra Photography – Sample Pack

Montana Lee – America the Beautiful Collection
MustaART – Matrice
MV Presets – 04 Split Tone Concert
Naomi Hewitt – Preserve
Nathan Elson – Cinematic Presets v2
فلاتر فوتوشوب تجميعة ضخمة

Nathan Lobato – Collection Pack
NATY – Be Truly Wild
Noble Presets – Noble Enhancers 2.0
Okada Curbon
Opulent Studio – Fall Wedding
Paolo Barretta – I Am Winter Color Grading Pack
Pat Kay – Portrait Pack
Peter Yan Studio – Yantastic Master Collection
Peyton Byford – High Desert Collection
Photoart Supply – Daydream

Photographers Lounge – Vintage Film Presets and Textures
PhotoMarket – Nature and Landscape
Photoserge – Presets Vol. 3 Movies
Pohleroid – Master Pack
Polina Washington – Botanical Garden
Potions of Nature – Pack 01
Pratik Naik – Solstice

Priime – Priime Collection 01
Pro Add-Ons – Photo Editing Bundle
Pro Matte Collection
Pro Sharpness Collection
Radiant Glow

Rafael Lange – Hector
Raguccy – Summer of '93 Cinematic Pack
Rebeca Saray – Fine Art

RGGEDU – Creative Color Grading Packs Master Collection
Rico Reinhold – Original Pack
RWPHO – Summer Warmth Pack
Sam Hurd – The Epic Grain
Sam Kolder – Original Collection (MASTER)
Sam Oetiker – Cinematic Collection
Samuel Lintaro Hopf – Street Life Color and Chrome Pack
Shoot & Retouch – Wedding Collection

Shuang Jue – Hong Kong Style Pack
Signature Edits – Clean & Classic
Skin Retouch
Slava Mishura – Globe Travelling Collection
Snapsbyfox – 2022 Pack
Studio W & W Presets
SYTS Automotive Photo
فلاتر فوتوشوب تجميعة ضخمة
s – Ultimate Automotive Pack 10x
Tamara Williams – Williams Pack
The Golden Hour
The Heritage Co. – The One Night Workflow Bundle
The McLachlans – Pack 2
The Portrait Masters – Create Pack by Jasmin Jade
The Quantum Collection
TKNorth – Deluxe Editing Pack v2
Tom Kahler – Starter Pack
Tomas Havel – Portrait Collection
Trey Wallace – Atlas
Underground Presets
Vanessa Joy – Custom Pack
فلاتر فوتوشوب تجميعة ضخمة

Via Photo – Bright
Vici Visuals – November Collection by Hayley Andersen
Video Photo Presets – B & W Collection
Visualofu – Custom Collection 2020
Visuals by Preet – Cine Pack
VogViswall – Analogue Film
Walter Quiet – Fa Piacere
WatchLuke – The Adventure Collection
Wildhearts Lab
فلاتر فوتوشوب تجميعة ضخمة

Xequals – BW
Yann B – Portrait PRO
Yoss Cinematic – Travel and Adventure
You Me and the Salty Sea – The Beach and Desert Collection
Yuliya Bezdar – Maldives
Zhenya Sudakova – Stylish Collection
Zhenya Swan – Metallic Blues
فلاتر فوتوشوب تجميعة ضخمة
---
---

---
---
---
---

بمبلغ بسيط، احصل على العضوية المميزة وحمّل بشكل مباشر، بدون إعلانات وبدون انتظار!
---
تحميل تيلجرام مباشر
تحميل Katfile استخدم مانع اعلانات
Table of Contents