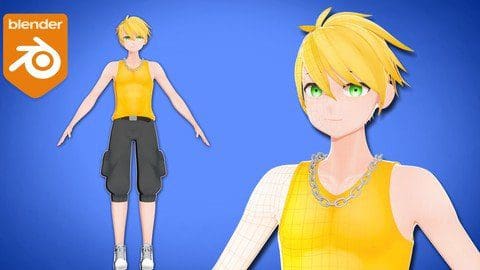 Blender Anime Character Modeling Course
Published 9/2023
MP4 | Video: h264, 1280×720 | Audio: AAC, 44.1 KHz
Language: English | Size: 5.43 GB | Duration: 5h 21m
Blender Anime Character Modeling Course
Creating Your Own Anime Character Using Free Software Blender And Krita
What you'll learn
Blender Modeling
Blocking Out the Base Mesh
Modeling Head from a Cube
Combine all meshes Together to get the Base Model
Refine the Base mesh to Get the clean Topology
Modeling A Costumes & Accessories
Hair Modeling From Curve
Basic UV Unwrapping ( Base Mesh )
Texturing
Creating an Anime Shader Set Up
Requirements Blender Anime Character Modeling Course
You should Know the basic of Blender & 3D Modeling.
Krita or any other image editing software for Texturing.
Description
Welcome to this Character Modeling Course. I'm Shion and in this course, I'll teach you how to Model your own anime character using the free software Blender & Krita.
Disclaimer: This course also contains a Timelapse ( mainly for those repeating process ) to save video time. I can not provide the design and the files because of the copyright but I do hope you are ready with your own design or get one from the internet for a practical purpose.
In this course: I'll start by showing the Blender Tools that I use. Then we will learn how to set up your Reference image.
Blender Anime Character Modeling Course
Blocking out the base mesh with simple shapesCombine the block-out meshes together to get the base meshModeling the Head from a Cube ( we will cover the basic shape in block out part )Combine the head with the base mesh and refine the Mesh to get a clean topologyModeling the Costume and accessories (Neckchain)Modeling hair with CurveBasic UV Mapping ( Only the Base Mesh )Texturing using Blender and KritaMaterial Set Up & LightingThis is my first course, and it was specially designed for my Channel so there are things that I have missed or need to improve.
I'm already working on a new Course which will have a more in-depth course!
Overview
Section 1: Introduction
Lecture 1 Introduction
Lecture 2 Basic Blender Tools & Setting Up the Reference Image
Section 2: Creating Base Mesh
Lecture 3 Blocking Out the Character
Lecture 4 Combine Block out meshes Together
Section 3: Head/Face Modeling
Lecture 5 Head Modeling
Lecture 6 Refine the Base Mesh
Section 4: Costume and Accessories Modeling
Lecture 7 Top Tank Modeling
Lecture 8 Pant Modeling
Lecture 9 Shoes Modeling
Lecture 10 Accessories ( Neck-Chain )Modeling
Section 5: Creating Hair From Curve
Lecture 11 Hair Modeling
Section 6: UV Mapping
Lecture 12 Base UV unwrapping
Section 7: Texture Painting
Lecture 13 Blender Texture painting for base color
Lecture 14 Shading the Skin (Base Texture) in Krita
Lecture 15 Time-lapse Texturing for costume and Hair
Section 8: Material Set up and Lighting
Lecture 16 Material set up and Lighting
People Who are interested in Creating Their Own Character using Blender.,Intermediate Blender User
---
---

---
---
---
---

بمبلغ بسيط، احصل على العضوية المميزة وحمّل بشكل مباشر، بدون إعلانات وبدون انتظار!
---
تحميل تيلجرام مباشر
تحميل Katfile استخدم مانع اعلانات
Blender.Anime.Character.Modeling.Course.part1.rar
Blender.Anime.Character.Modeling.Course.part2.rar
Blender.Anime.Character.Modeling.Course.part3.rar
Blender.Anime.Character.Modeling.Course.part4.rar
Blender.Anime.Character.Modeling.Course.part5.rar
Blender.Anime.Character.Modeling.Course.part6.rar
تحميل Rapidgator
Blender.Anime.Character.Modeling.Course.part1.rar
Blender.Anime.Character.Modeling.Course.part2.rar
Blender.Anime.Character.Modeling.Course.part3.rar
Blender.Anime.Character.Modeling.Course.part4.rar
Blender.Anime.Character.Modeling.Course.part5.rar
Blender.Anime.Character.Modeling.Course.part6.rar
Table of Contents